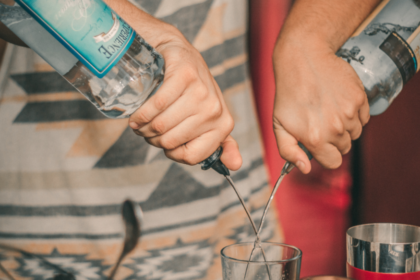 Beverage catering is the servicing of drinks such as beer, wine, soda, spirits and coffee during events. Most times beverage catering involves bartending and the setup of the bar. Along with this the beverage catering company will do the purchasing of the beverage for the client and will have set packages.
Important note, in the state of Colorado all bartenders must be tip certified and a responsible vendor license.  In fact, here are some things you should know about the science behind beverage catering:
What are the 5 Core Spirits? 
The five core spirits are the basic liquors of a bartender. These are vodka, gin, whiskey, rum, and tequila.
Vodka – this Russian spirit can be taken on the rocks but is frequently used in different kinds of cocktails like martinis and cosmopolitans. You can also serve this as a cold shot too.
Gin – Gin is liquor which derives its predominant flavour from juniper berries. Gin is one of the broadest categories of spirits, all of various origins, styles, and flavour profiles that revolve around juniper as a common ingredient.
Whiskey – a spirit distilled from malted grain, especially barley or rye.
Rum – a distilled alcoholic beverage made from sugarcane byproducts, such as molasses or honeys, or directly from sugarcane juice, by a process of fermentation and distillation. The distillate, a clear liquid, is then usually aged in oak barrels.
Tequila – is a regional distilled beverage and type of alcoholic drink made from the blue agave plant.
How do You know how much alcohol to buy for an event?
There are various tools online that will tell you how much alcohol you have to bring to your event. But generally, it will depend on the following factors:
Number of guests
Duration of event
Is the bar open?
When the bar will open
When the bar will close
Normally your guest will have 2 drinks during the first hour and an additional drink for every additional hour they attend your event.
In general you should buy more vodka than any other drinks, unless you know what your guest likes or are doing a themed event that called for a certain type of drinks.
How many bartenders should I have?
The ideal scenario is that you have 1 bartender for every 50 to 75 guests. But generally, the advice is that you will need a second bartender if you have about 75 to 150 guests for a basic but limited bar.
If, however, you have a full bar with different mixed drinks, you should definitely try to follow the 1:50 ratio.
How do I set up the bar area? 
Choose an area where there is a good flow of people pas the cocktail bar and into the standing or seating areas
Spot for Ice and buckets in middle or in convenient place
Spirits go to the right
Left side have your mixers
Have your wines on ice in a bucket
Beer in a cooler chilling (at least one hour before) or pre chilled
Backup drinks and cups on back tables
If you need Beverage Catering fro you next event and have question please contact us