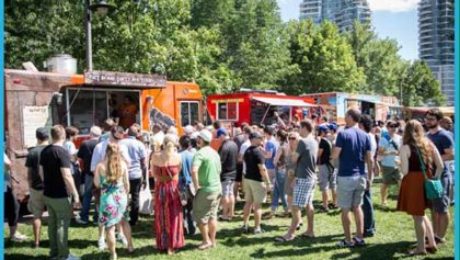 Food trucks have brought the food scene in Denver to a whole new level.
It brought us some food choices that would have required someone to open up a new restaurant, which would have needed major capital investment.
And with Denver being open to different foods from different cultures, food trucks are able to thrive and make a niche in the city's food scene.
The best part is that you can now take advantage of the latest food truck scene by renting them out for your event.
Instead of the usual fare, give your guests a treat by renting out the trendiest Denver trucks that can take your event to the next level.
Here are some of the top Denver food trucks you can get for your event:
The Sugar Storm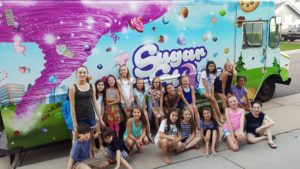 The Sugar Storm Mobile Candy Store is your one-stop shop for all your candy and chocolate needs… on wheels. Yep, get your fix of your favorite sweets and even ice cream from this one-of-a-kind food truck. Your event guests will surely go ga-ga waiting to treat their sweet tooth.
The Ethiopian Food Truck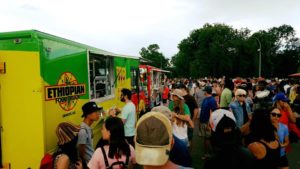 Introduce your event guests to the wonders of Ethiopian fare from the Ethiopian Food Truck. This very underrated cuisine gives you delicious food while introducing them to the colorful Ethiopian culture. From the Tikel Gomen to the soft injera, everything is served hot, fresh and delicious.
The Mack Shack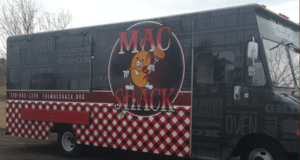 Comfort food at its finest. That is what the Mac Shack food truck aims to deliver to everyone in Denver. Their mac and cheese are obviously to die for, but they also offer other tasty food options ranging from healthy salads to delicious fries. There will be something for everyone in this food truck for all your event guests.
Roll it UP Sushi Truck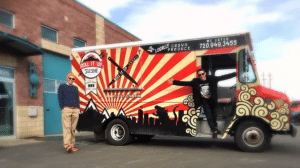 This is not your ordinary sushi joint. Aside from being served in a food truck instead of a Japanese restaurant, you can also try some amazing flavors you can never find anywhere else. Pro tip: buy the Voodoo child and the Godzilla. You're welcome!!
Devil Dog Grill
If you are looking for a more traditional, American backyard grill type of food truck for your event? Then the Devil Dog Grill is the one for you. They serve up a variety of hotdogs and sausages like bratwurst and spicy Polish. They also serve burgers and even a vegetarian burger for your non-meat loving guests. Try the Hebrew National All Beef hotdog and find out why it was ranked number one among national hot dog brands by the NYT.
Do not underestimate these food trucks. Some of the best fares can be tasted through their offers. Bring these Denver food trucks to your event and take it to the next level.
Here are more Food Trucks You can think about:
Sugar Storm – Mobile Candy Store

Sugar Storm is the world first mobile candy store, they carry over 100 typle of bulk candy along with Ice Cream.

Ethiopian Food Truck– Ethiopian Food

Serving traditional Ethiopian Food

The Mac Shack – Mac & Cheese

Comfort food is done right! Creamy lobster mac & cheese, stuffed burgers and chicken cheese bombs.

Roll It Up Sushi – Roll It Up Sushi Truck
The Real Deal –

Tropical Juices We are a Juice Truck that offers 100% natural tropical juices as well as Latin food

Arepas House -Latin
The Bamboo Skewer -Asian
Barbed Wire Reef – Burgers
California Wrap Runner – Gourmet Wraps and Bowls
Christina's Curbside – Latin
Clamato Time – Latin
Colorado Pig Rig – Eclectic
Comforts of Home – Eclectic/Home Cooked Meal
Dos Locos – Mexican and American
Em's Ice Cream
Farm To Truck
Flex-Able
Funnels
Ginger Pig Truck – Asian Street Food
Asian Street Food
Gulley's Snow 2 G
Happy Cones – Ice Cream
Hey PB&J
J Street Food Truck
Keenwah, Co. – Quinoa Cuisine
Knock On Wood – BBQ
La Chiva Colombian Cuisine
Lena B Bar-B-Que
Liquid N2 Ice Cream – Desserts
Lobster Bliss – Eclectic/Seafood
Lomito Gourmet – Peruvian
Lowco Food Truck – Cajun
Maine Street BBQ – BBQ
Maineiac Lobster Co. – Seafood
Mandeville Grill – Jamaican
Meatball. -Sandwiches
Moo Mobile – Desserts
Orange Crunch Asian – Asian
Pink Zebra Desserts -Desserts
R U Cereal -Dessert
Rita's Italian Ice – Desserts
Rocky Mountain Slices – Pizza
Rollin' Bones BBQ – BBQ
Samples World Bistro – Eclectic
The Saturn Pit Stop – Eclectic
SG Smoke House -BBQ
Simply Pizza
Steuben's – American/Burgers
Street Frites Mobile Eatery – Eclectic
Suburban Wiener – Hot Dogs/Sausages
Talarico's Italian Taste – Italian/Pizza/Sandwiches
Taste of Texas BBQ – BBQ
Teal Tacos -Latin
Turn-in BBQ – BBQ
Umami Mobile Eatery – Asian
Wheels on Fire – Pizza
Whoopie Pie Truck – Desserts
Mac Daddy Food Truck – Mac & Cheese
Everyone wins when you're an Event Resource Center affiliate.
Being an Event Resource Center affiliate is great for both you and your followers. Your followers get great deals on products and rentals from the fastest growing event planning & event rental business in Colorado  – and you get cash for qualifying purchases they make through your affiliate link
Place your ad
Choose from one of our banner ads and text links to place anywhere on your site or directly on your social media sites. You don't need to be a technical whiz – just copy and paste the code we've provided to your web page or blog or in your email and you're done!
Earn your commission
Visitors who click through to Event Resource Center from your ads are considered referrals. If they make a qualified purchase, you automatically earn commission!