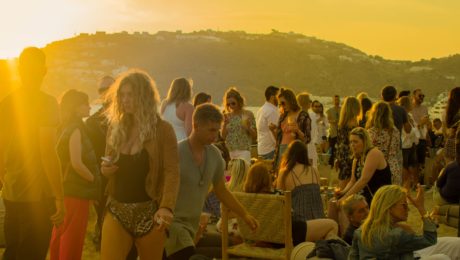 Summer is here and the temperature is rising.
Flare up the temperature some more by hosting your own awesome summer party.
If you haven't hosted any summer party in the past, don't worry.
Here's a guide that will make it easier for you to throw a cool summer party not only for friends and family, but a party where strangers will be paying admission to get to.
Hire a catering company to drop off or get a food truck to come. 
Number one on the list is food. But if you are going to host a large crowd, it might be better off if you would just hire a professional catering company.
Preparing the food yourself will just eat up all your time that is better used in organizing the event itself. Besides, you think you are saving money by cooking the food by yourself, but for large groups, you might be surprised that the cost of hiring caterers is not that far off from the cost of doing it yourself.
Another option, aside from hiring a catering company, is to get a food truck to come to your event. It will be a cool factor thrown into your summer party.
Anticipation is everything. Build an event website to get registration and have a designer create a flyer. 
All your efforts will be for naught if you are not able to get people to go to your event. The best way to do that is to market your party extensively.
One way to effectively do it is to build an event website to get registration. The site will also include all the details of your summer party including the date, location, itinerary, and line up of guests and performers.
Use the website as the center of your marketing campaigns. Extensively promote it on social media, go as far as boost your posts through paid ads.
You can also delve into traditional marketing. Have a designer create a cool flyer that also indicates your website. Pass it around town.
Rent an open-air photo booth 
I always say that the photo booth is the ultimate rental for any event, summer parties are not an exception.
And you know what's better than a photo booth? And open-air photobooth. Yup no walls. A photobooth where everyone sees how everyone poses.
It is a fun way to get everybody involved in the event. It's a souvenir for your guests too.
Hire local DJ with sound system
There will be lull moments during your summer party. A DJ can fill those silent moments with groovy music.
Your DJ can also be one of the performers. Ask your DJ to play a killer set for you.
And once all the performers are done, your DJ can take control and get everyone to dance through the summer heat.
Rent Tables and chairs with table linen
Your party is about summer so it is important that your tables, chairs and other decors reflect that.
Make sure that the linen used on the tables matches the color and theme of your event.
If not, your guests will surely notice that the décor is just an afterthought.
Get a bartender to serve mixed drinks and signature cocktails 
What kind of summer party doesn't have alcohol? Make sure that you rent a bar or have a beverage caterer to take care of the drinks during your summer party.
Coordinate with your beverage caterer about the types of mixed drinks that will be available. You can even concoct your own signature cocktail so that it will be identified to your event.
These are just some simple things you can follow if you want to organize a kickass summer party. It will take some time and effort, but it will be worth it.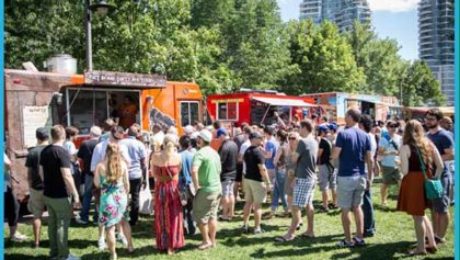 Food trucks have brought the food scene in Denver to a whole new level.
It brought us some food choices that would have required someone to open up a new restaurant, which would have needed major capital investment.
And with Denver being open to different foods from different cultures, food trucks are able to thrive and make a niche in the city's food scene.
The best part is that you can now take advantage of the latest food truck scene by renting them out for your event.
Instead of the usual fare, give your guests a treat by renting out the trendiest Denver trucks that can take your event to the next level.
Here are some of the top Denver food trucks you can get for your event:
The Sugar Storm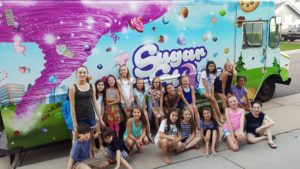 The Sugar Storm Mobile Candy Store is your one-stop shop for all your candy and chocolate needs… on wheels. Yep, get your fix of your favorite sweets and even ice cream from this one-of-a-kind food truck. Your event guests will surely go ga-ga waiting to treat their sweet tooth.
The Ethiopian Food Truck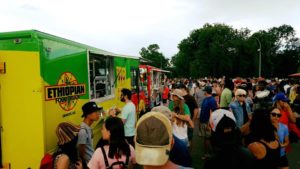 Introduce your event guests to the wonders of Ethiopian fare from the Ethiopian Food Truck. This very underrated cuisine gives you delicious food while introducing them to the colorful Ethiopian culture. From the Tikel Gomen to the soft injera, everything is served hot, fresh and delicious.
The Mack Shack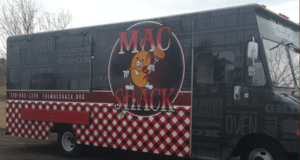 Comfort food at its finest. That is what the Mac Shack food truck aims to deliver to everyone in Denver. Their mac and cheese are obviously to die for, but they also offer other tasty food options ranging from healthy salads to delicious fries. There will be something for everyone in this food truck for all your event guests.
Roll it UP Sushi Truck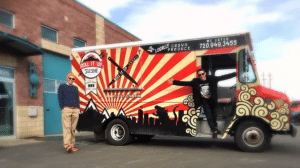 This is not your ordinary sushi joint. Aside from being served in a food truck instead of a Japanese restaurant, you can also try some amazing flavors you can never find anywhere else. Pro tip: buy the Voodoo child and the Godzilla. You're welcome!!
Devil Dog Grill
If you are looking for a more traditional, American backyard grill type of food truck for your event? Then the Devil Dog Grill is the one for you. They serve up a variety of hotdogs and sausages like bratwurst and spicy Polish. They also serve burgers and even a vegetarian burger for your non-meat loving guests. Try the Hebrew National All Beef hotdog and find out why it was ranked number one among national hot dog brands by the NYT.
Do not underestimate these food trucks. Some of the best fares can be tasted through their offers. Bring these Denver food trucks to your event and take it to the next level.
Here are more Food Trucks You can think about:
Sugar Storm – Mobile Candy Store

Sugar Storm is the world first mobile candy store, they carry over 100 typle of bulk candy along with Ice Cream.

Ethiopian Food Truck– Ethiopian Food

Serving traditional Ethiopian Food

The Mac Shack – Mac & Cheese

Comfort food is done right! Creamy lobster mac & cheese, stuffed burgers and chicken cheese bombs.

Roll It Up Sushi – Roll It Up Sushi Truck
The Real Deal –

Tropical Juices We are a Juice Truck that offers 100% natural tropical juices as well as Latin food

Arepas House -Latin
The Bamboo Skewer -Asian
Barbed Wire Reef – Burgers
California Wrap Runner – Gourmet Wraps and Bowls
Christina's Curbside – Latin
Clamato Time – Latin
Colorado Pig Rig – Eclectic
Comforts of Home – Eclectic/Home Cooked Meal
Dos Locos – Mexican and American
Em's Ice Cream
Farm To Truck
Flex-Able
Funnels
Ginger Pig Truck – Asian Street Food
Asian Street Food
Gulley's Snow 2 G
Happy Cones – Ice Cream
Hey PB&J
J Street Food Truck
Keenwah, Co. – Quinoa Cuisine
Knock On Wood – BBQ
La Chiva Colombian Cuisine
Lena B Bar-B-Que
Liquid N2 Ice Cream – Desserts
Lobster Bliss – Eclectic/Seafood
Lomito Gourmet – Peruvian
Lowco Food Truck – Cajun
Maine Street BBQ – BBQ
Maineiac Lobster Co. – Seafood
Mandeville Grill – Jamaican
Meatball. -Sandwiches
Moo Mobile – Desserts
Orange Crunch Asian – Asian
Pink Zebra Desserts -Desserts
R U Cereal -Dessert
Rita's Italian Ice – Desserts
Rocky Mountain Slices – Pizza
Rollin' Bones BBQ – BBQ
Samples World Bistro – Eclectic
The Saturn Pit Stop – Eclectic
SG Smoke House -BBQ
Simply Pizza
Steuben's – American/Burgers
Street Frites Mobile Eatery – Eclectic
Suburban Wiener – Hot Dogs/Sausages
Talarico's Italian Taste – Italian/Pizza/Sandwiches
Taste of Texas BBQ – BBQ
Teal Tacos -Latin
Turn-in BBQ – BBQ
Umami Mobile Eatery – Asian
Wheels on Fire – Pizza
Whoopie Pie Truck – Desserts
Mac Daddy Food Truck – Mac & Cheese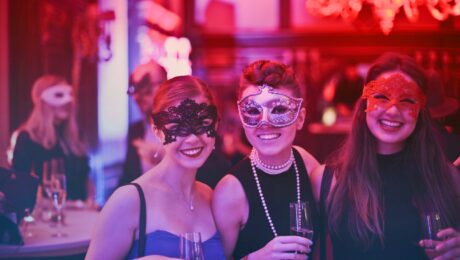 Holding corporate holiday events is a fun way to give back to your employees.
These events give you the opportunity to show your appreciation for having them in your company.
However, holding a corporate event does not mean your employees are going to have fun.
If it is just your standard run of the mill event, you might just get some ho-hum reaction from the crowd.
So to make sure your guys are engaged an are having fun, here 4 event ideas to take your corporate holiday to the next level:
A photo booth
The photo booth is the ultimate event rental. Bring it to your holiday event and your employees will surely have fun.
First, they will have fun posing with each other in different wacky poses. Second, they will have a souvenir of the event to take home.
Last, it will be a conversation piece even after they have had their photos taken.
A popcorn machine
A popcorn machine brings nostalgia about the old days when we were brought by our parents to the carnival.
Bring that nostalgia back into your corporate holiday event.
Plus, popcorn is the ultimate filler snack. It is not too heavy that your guests will lose appetite for the main course, and it is not too messy that it can ruin some nice guest getups.
A food truck
Instead of getting a traditional food caterer, make it fun by inviting some of the best food trucks in the area.
Denver, in fact, has some of the most diverse food-truck scene in the US so there would be a lot to choose from.
A beverage bar
The best way to bring out the fun in your employees? Alcohol, of course.
So why don't you get a beverage bar setup for your employees? Watch them have a few drinks and start loosening up.
Next thing you know, everyone's dancing on the dance floor.
Just make sure everyone has a designated driver.
These 4 corporate holiday ideas should take your event to the next level. Just remember that it is not about you, but your employees.
Make sure that they will have fun.