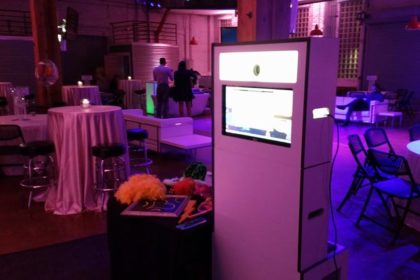 Not all photo booth rental companies are made equal, many people enter into the photo booth rental business because they think it is easy to build a photo booth in there garage, download a free photo booth software and buy a cheap webcam of ebay with out ever making any significant investments. Just to make a few extra bucks on the weekend. Many people and event organizers have fell victim to the to these nalvelty hobbyist. By the end of this post you will be able to identify these companies to insure you book the right photo booth rental service for your event.
Does The Company Have A Professional Website With Photos & Testimonials?
No question needed here, good reputable companies invest time and money on a great website presents because they know that this is there first impression to get your business. If a company does not have well done website, follow your gut! and move on to the next company.
Thing you should look for to show your on a website of a good company…
You see lots of good photos (real photos not stock photos)
They have current testimonials
They have links to active social media pages
They have a professional and attractive logo
The site has an overall good feel
Ask To See Photos & Videos of Past Event?
You want to make sure your photo booth rental is top notch because a four event should come out with hundreds of prints and thousands of digital images, your goal is to make sure this happens and get the best quality. If your photo booth rental company drops the ball you will not get the quality you deserve or the the quantity you want.
Ask your photo booth company to send the following photos …
Photos of the actual photo booth that will be at your event.
Copy of 2-3 of the latest photo strips from past event that are similar to yours. for example if you are hiring a wedding photo booth service ask to see photo strips from past weddings.

Pay attentions to the dates on the strips to confirm when they where done

 Photos of individual photos from the strip
Gif photos from past events
Photos of their setup
Photos of their props
Ask What Comes With The Photo Booth Rental
If your shopping for the best value this is the best question to ask each company, we suggest that you call or email at least 3 photo booth companies and get emailed proposals before making your dection. Its also smart to consider the timeliness of each proposal, if the company takes multiple days to respond, it could be an indicator that they are a disorganized or unprofessional companies, most top rated companies respond to requests for proposals in less than 1 hour, if not immediately.
Here is a list of thing top photo booth companies offer with every rental…
Unlimited photo prints on site
Choice of 2-5 backdrops included with package
Prop Kit that includes: hats, boas, glasses, signs, masks and more
Photo booth host or attendant to ensure your guest are taking the best photos possible and maintaining the photo booths up time and changing photo paper as needed
Red carpet to make sure the photo booth area has the best look possible
An online gallery included at no extra charge for you and your guest to access the photos taken
Easy social media sharing from the booth
Text-2-self features so your guest can get an instant digital version of the photo booth strips to there phone
Ask what is Under The Photo Booth Shell
This question will reveal if the company is professional and serious about offering you the best quality printed photo strips and digital images or just looking to make a couple extra dollars on the side by taking advantage of your event. You want to intantly avoid any photo booth company that says they are using a webcam or built in computer camera. The best webcams are not able to compete ageists professional DSLR's and most likly will produce lower quality images that are a wast of time
You are looking for companies that have the following under the shell
The camera should be a DSLR.
Popular photo booth printers

DNP DS40
HITI 510
Mitsubishi CP-K60DW-S
Brava 21
Recommended Denver Photo Booth Rental Companies
Photo booth season is our first choice for many reasons. They have a great website, they respond to quote request quickly, they give customers a good price and offer lots of features, they use top of the line equipment and they have great customer service. we also include likes to a few other top rates photo booth services.
Try these companies out and let us know what you think in the comment area below, also send us other good photo booth services to add to our list.