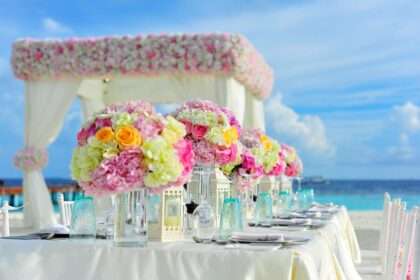 Planning to host an event like a wedding, birthday party, or a corporate event?
You are probably already thinking about the big-ticket items that you have to consider like venue, food, and even entertainment.
However, there are simple things that you can add to your event that can have a big impact.
Take a look at some at these 5 event rental items that you should consider for your next event.
A popcorn machine
A popcorn machine gives your event an instant fun way to give your guests some snacks and to distract them as well.
You would think that a popcorn machine is only for carnival, circus, or movie-themed events. You would be wrong.
You'd be surprised at how many events works with a popcorn machine on hand.
It provides nostalgia and it gives people something to snack on while waiting for the event to unfold.
The best part is that it is not too messy that it can ruin formal clothes during formal events.
A photo booth
Another great addition to any event is a photo booth. This is a fun way to get your guests more involved in your event.
Your guests get to have fun doing wacky poses in the booth with each other plus they get an instant souvenir for their trouble.
Best part, you can get a soft copy of all the pictures that you can use for a collage or something else to remember the event.
A jumpy castle obstacle course
You would think that a jumpy castle would only be for children. You would be so wrong.
You will be surprised at how many adults will be excited to bounce up and down like little children on these.
Plus, since it is an obstacle course, there would be some competitive people who would want to take it to the next level.
Next thing you know, you have a Jumpy Castle Obstacle Course race to add to your itinerary.
Fancy tablecloths
You may think that any tablecloth for your event will do but your tablecloth will actually help you set the ambiance of your event.
Make sure that your tablecloth matches the motif of your event. If not, it will really be obvious because you will see the contrast between the venue design and your tables immediately.
Also, make sure to use fancy linen. Your guests will quickly notice if you use cheap ones because they will be directly touching the material.
A cool centerpiece
Like your tablecloth, a cool table centerpiece also helps set the mood and ambiance of the event.
Imagine having tables with barren design except for the tablecloth. The table will look too blank.
A cool table centerpiece helps you fill that blank space in the table with something that is desirable to look at.
Plus, it can also be a cool conversation piece for guests, especially if it is really unique.
These are just some of the cool but simple rentals that can elevate your next event.
Do you have other suggestions? Sound off in the comments section!!