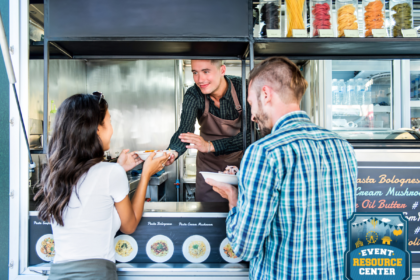 Denver is a city with a thriving food truck scene, and there are endless possibilities when it comes to booking a food truck for your fall event. Whether you're hosting a corporate party, wedding, or block party, there's sure to be a food truck that can cater to your needs.
Here are the steps on how to book a food truck in Denver:
Do your research. There are dozens of food trucks in Denver, so it's important to do your research and find one that serves the type of food you're looking for. You can use online resources like Event Resource Center to find reviews and menus of different food trucks.
Contact the food truck. Once you've found a few food trucks that you're interested in, contact them to get more information about their availability and pricing. Be sure to provide them with the date, time, and location of your event so they can give you an accurate quote.
Book the food truck in advance. Food trucks are popular, so it's important to book them in advance, especially for popular events like weddings and festivals. The best food trucks often book up months in advance, so don't wait until the last minute.
Pay the deposit. Once you've booked the food truck, you'll need to pay a deposit. The amount of the deposit will vary depending on the food truck, but it's typically around 50% of the total cost.
Coordinate with the food truck. On the day of your event, be sure to coordinate with the food truck to confirm their arrival time and location. You should also let them know if there are any dietary restrictions or special requests.
Here are some of the top food trucks in Denver:
The Denver Slider Truck: This food truck serves up delicious sliders made with fresh, local ingredients.
The Crepe Cart: This food truck offers a variety of sweet and savory crepes, as well as coffee and espresso drinks.
The Rocky Mountain Pie Company: This food truck serves up fresh-baked pies, including apple, cherry, and peach.
The Flying Pig BBQ: This food truck serves up mouth-watering barbecue, including ribs, brisket, and pulled pork.
The Pho King Truck: This food truck serves up authentic Vietnamese pho, as well as other Vietnamese dishes like banh mi and spring rolls.
These are just a few of the many great food trucks in Denver. With so many options to choose from, you're sure to find the perfect food truck to cater your fall event.
---
Here are some additional tips for booking a food truck in Denver:
Be flexible with your date and time. Food trucks are more likely to be available on weekdays or off-peak hours.
Be prepared to pay a premium for popular food trucks. The best food trucks often charge more than the average food truck.
Be sure to have a backup plan in case the food truck doesn't show up. This could happen due to bad weather or mechanical problems.
With a little planning, you can easily book a food truck in Denver for your fall event. So what are you waiting for? Start planning your event today!