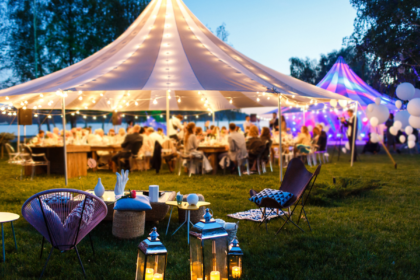 Fall is in the air, and that means it's time to start planning your next event! Whether you're hosting a corporate picnic, a Halloween party, or a harvest festival, there are a number of event rentals that can help you create a memorable experience for your guests.
Here are a few of the most popular fall event rentals:
Tents: Tents are a great way to protect your guests from the elements, whether it's a sunny day or a rainy one. They come in a variety of sizes and styles, so you can find the perfect one for your event.
Tables and chairs: Tables and chairs are essential for any event, but they're especially important in the fall when the weather can be unpredictable. Choose tables and chairs that are comfortable and durable, and that match the theme of your event.
Linens: Linens can add a touch of elegance to your event. Choose linens in fall colors, such as red, orange, and brown.
Inflatables: Inflatables are a great way to add some fun and excitement to your event. There are a variety of inflatables available, including bounce houses, obstacle courses, and slides.
Games: Games are a great way to get your guests interacting and having fun. There are a variety of games available, such as cornhole, ladder toss, and giant Jenga.
Food and drinks: Of course, no event is complete without food and drinks! Be sure to have a variety of fall-themed food and drinks available, such as apple cider, pumpkin pie, and hot chocolate.
These are just a few of the many event rentals that are available for fall events. When choosing event rentals, be sure to consider the size and type of event you're hosting, the budget you have, and the needs of your guests.
Here are some additional tips for planning a successful fall event:
Choose a date and time that works for your guests.
Send out invitations well in advance.
Have a backup plan in case of bad weather.
Decorate with fall colors and themes.
Provide plenty of food and drinks.
Have some fun activities planned for your guests.
With a little planning, you can create a fall event that your guests will remember for years to come!
Contact Event Resource Center today to learn more about our event rentals and services. We can help you plan and execute a successful fall event that your guests will love.
Sure, here is a note for the bottom of the blog post that includes Event Resource Center's contact information:
Need help planning your next fall event? Contact Event Resource Center today! We have everything you need to create a memorable event that your guests will love.
Call us at (720) 907-4044 or email us at [email protected] We're here to help you every step of the way.
Attention event planners: Get 10% off your next event rental when you mention this blog post!
Offer valid until September 30, 2023.