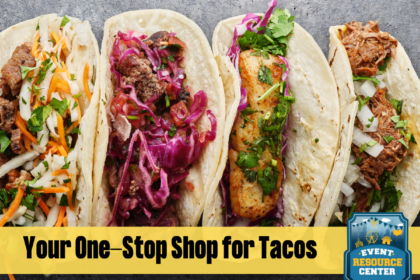 Tacos are a delicious and versatile food that can be enjoyed at any event. Whether you're hosting a corporate party, a wedding reception, or a birthday bash, Event Resource Center can help you make your taco dreams come true.
We offer a variety of ways to get your taco fix, including:
Food trucks: We have three delicious taco food trucks that we can bring to your event: Savory Kitchen, The Taco Guy, and The Foodie Cart. Each truck offers a unique selection of tacos, so you're sure to find something to satisfy your taste buds.
Catering: Our catering team can create a custom taco bar for your event. Choose from a variety of fillings, toppings, and sauces to create the perfect taco experience for your guests.
Drop-offs: If you're looking for a more casual option, we can also deliver tacos to your event. Just let us know how many tacos you need and we'll take care of the rest.
No matter how you choose to enjoy them, tacos are sure to be a hit at your next event. And with Event Resource Center, you can be sure that your tacos will be fresh, delicious, and cooked to perfection.
Here are some of the benefits of using Event Resource Center for your taco needs:
We have a wide variety of taco options to choose from, so you're sure to find something to satisfy everyone's taste buds.
Our food trucks and catering team are experienced in providing delicious and high-quality tacos for events of all sizes.
We're committed to providing excellent customer service, so you can be sure that your event will go off without a hitch.
So what are you waiting for? Contact Event Resource Center today to learn more about how we can help you make your next event a taco-tastic success!