FESTIVAL VENDOR CHECKLIST
CIVIC CENTER PARK 
SATURDAY JULY 23rd
CONTACT PERSON DAY OF EVENT: DONDRAE MILLS
DONDRAE(at)INTERNATIONALFEST.org
303.800.5455
Please text for a faster response
 ---
Tented vendors please see the site map to identify the area that your tent will be located. Food trucks please remember that you will enter the park based on the order in which you arrive starting at 8am. The entry point is located on the site map.
I have also included parking information from our partner SpotHero for any staff and/or volunteers that may be driving regular vehicles. Parking spaces must be purchased in advance and please use discount code: INTFEST (please see attached document).
*Food vendors please note the following message from Food Safety Section for the Department of Environmental Health.
'First and foremost, I want to make sure you have information regarding hand washing station requirements. Each temporary vendor is required to have their own hand washing station set up at the booth, easily accessible during food handling and plating. The rules & regulations require that each vendor have a minimum of 5 gallons of clean water, soap, and single-use towels (like paper towels). There is a *critical requirement* for hot water: during the event, all food vendors shall have a hand washing station set up with hot water at a minimum of 90 degrees F. Food trucks and food carts shall have a separate hand washing sink supplied with hot and cold running water (at a minimum of 100 degrees F), soap and single-use towels, such as paper towels.'
Load In:
Trucks & Trailers:  Load in from 8:00am – 9:30am
10x10 Pop Up Tent & Other Vendors: Load in from 8:00am – 9:30am.
ALL VENDORS MUST be loaded in prior to 10am. 
Enter the Lot via Colfax and Bannock. Someone from our staff will be there to help direct you to your assigned spot or area.
Vendor Sell Time:  Everyone must be ready to sell by 10:00am.
Load Out: No break down can occur until 8pm.  No exceptions. Colfax and Bannock will be open for exiting at 8pm.
Food Vendors:  The festival will be providing all water, so NO water bottles are to be sold via any vendors. 
We suggest ALL FOOD VENDORS sell a $5 or less 'TASTE' item on their menu to allow guests to buy from multiple vendors and generate even more traffic.
We are asking all trucks to donate 3 complimentary meals for staff and volunteers. Staff and volunteers work very hard to make the event possible and will greatly appreciate your generosity. They will redeem tickets in exchange for meals, a system will be in place where no vendor redeems more than 3 tickets. In exchange the Denver International Festival will give your truck extra promotion on our social media platforms. Reply back to us with YES I AM WILLING TO DONATE 3 MEALS or NO I AM NOT INTERESTED IN DONATING ANY MEALS.
Electricity: There will be no electricity on site for vendors (unless prior agreements have been discussed). All vendors are responsible for their own power. LED or battery powered lights are suggested if you are interested in highlighting your merchandise with light.
WiFi: WiFi is not available at the site. Please be prepared to accept debit/credit card sales in offline mode.
Tented Vendor Set Up: You will need to bring: Everything to set up your shop (Unless previous arrangements have been made); tent, tables, décor, chairs. You will have a 10x10 (or larger, if purchased) space assigned for you. Sandbags and/or weights are suggested to hold down your tent poles in case of wind.
Sales Tax: You are responsible for charging and reporting your own sales tax.
Insurance Requirements: If you are serving food, follow the health code that regulates your particular product type.  General liability insurance is required for all vendors.  Please make sure your insurance covers you in a mobile/event capacity.
Trucks spaces will be filled on a first come, first served basis, for ease of load in (this will reduce the need for parallel parking).
Promotion: Please let your friends, family and fans know that you will be a part of this exciting community event by sharing the event flyer (attached) with your social network.
Payment: All payments need to be completed by July 1st 2016. Vendors with any remaining balance can pay by clicking the pay with paypal button on their original invoice.
We recommend reserving parking in advance with SpotHero!
SpotHero is a parking reservation service that connects drivers to discounted, convenient parking. Download the SpotHero iPhone | Android app or visit theCivic Center Park SpotHero Parking Page to find and reserve convenient parking with rates up to 50% off drive-up.
New to SpotHero? Download the app and enter promo code INTFEST for an extra $5 off parking. That's $5 off already discounted rates!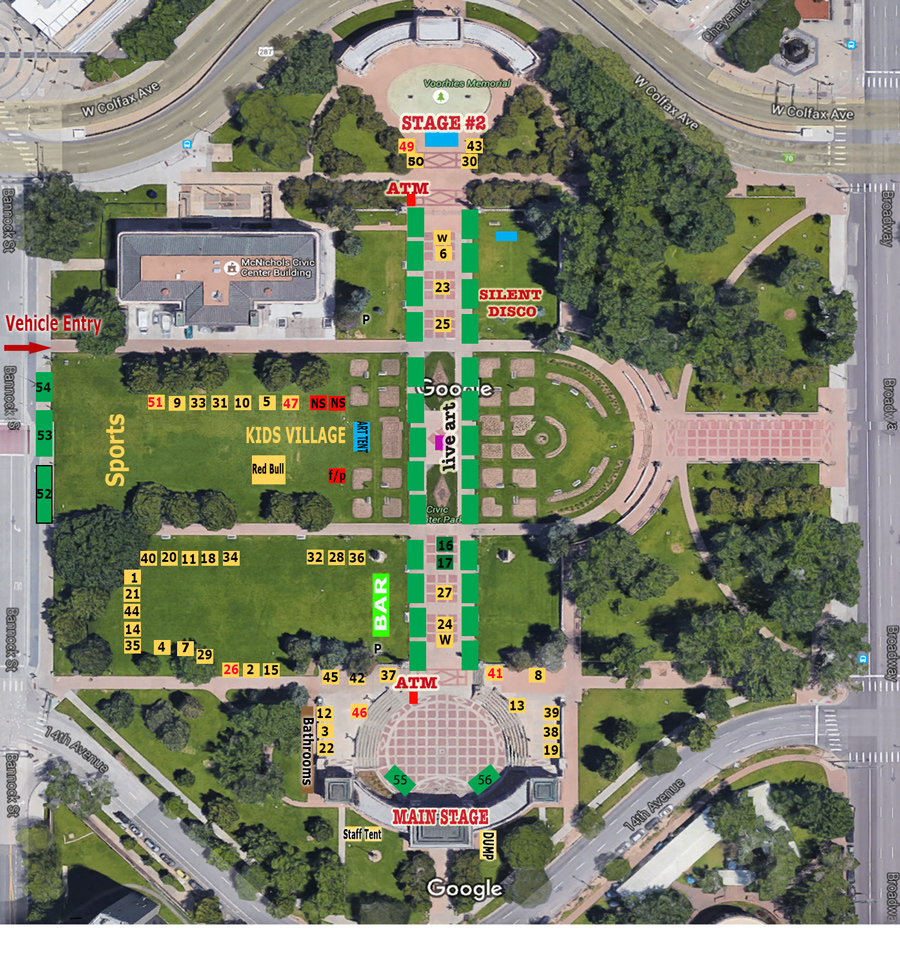 VENDOR LIST FOR SITE MAP
1.     American Diabetes Association/Consulate General Of Peru In Denver
2.     Ameritech Construction
3.     Austin Howlett Art
4.     Bath Planet of Denver
5.     Bjorn's Colorado Honey
6.     Carmichael Chiropractic
7.     Colorado 9/11 Truth
8.     Colorado Limited
9.     Costco
10.  Denver Language School
11.  Denver Public Schools
12.  Designs By You, LLC.  
13.  DoTERRA Essential Oils
14.  ECDC's African Community Center
15.  Exotica
16.  JERK BOX
17.  LAVO FOODS
18.  Meet The Middle East Foundation
19.  Metro Denver Partners
20.  Mile High Multi Lingual Services
21.  New Era Colorado Foundation
22.  New Life Design
23.  NexStep Communications, Inc.
24.  Passanante's Home Food Services
25.  Peace Corps
26.  Cutarelli Vision
27.  Project Angel Heart
28.  Renewal By Anderson
29.  Rocky Mountain Public Banking Institute
30.  Rod Martins Complete Basement Systems
31.  SkinnyPop
32.  SOGNO TOSCANO TUSCAN DREAM
33.  Spring Institute For Intercultural Learning
34.  Spur ranch jewelry
35.  The Denver Hospice
36.  The New America School Lakewood
37.  Valkarie Fine Art
38.  Wish of a Lifetime
39. XING Tea
40. Taste Of Ethiopia
41. The Pineapple Agency
42.  Afara
43. African Fashion & Arts
44. Turing school of software and design
45. Project Hartwork  
46.  Yulia Aiden Art
47.  Ayusa
48.  
49.  Pats Creations
50.  Solar City
51.  Adolesco
52. Dos Locos
53. Traveling Gypsy Café
54.  High Point Creamery
55.  Jammin 101.5
56. Flo 107.1